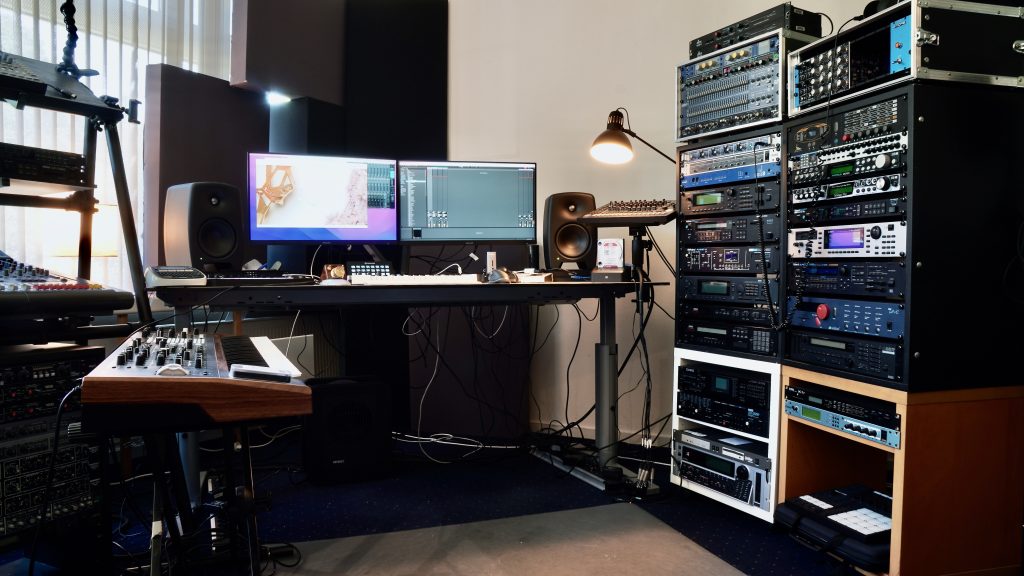 Filled to the brim with synths, effects, mixers, drummachines and other electronic music gear. Analog and Digital, we are no purists. We can do recording projects, bespoke sound design, mixing projects, electronic jams, writing camps, lessons and workshops.
Synths recorded at Sonar Traffic
Here's a list of songs in which the synthesizers were recorded at Sonar Traffic over the years. You'll see it's quite a diverse bunch.
GEAR
SYNTHS
Roland
Jupiter 8
Jupiter 6
Jupiter 4
Juno 106
JX3P
JX8P
JX10
RS09
MKS50
MKS30
D50
D550
JV1080
JD990
JP8080
MC101
U220
D110
MT32
Yamaha
DX7
TX816
TX81Z
FB01
DX7II
TX802
DX11
V50
SY99
FS1R
CS01
Korg
Polysix
Mono/Poly
Poly61
MS20
EX800
EX8000
MS2000R
Wavestation AD
Prophecy
Z1
01w/FD
Karma
M1Rex
Sequential Circuits
Prophet 5 rev 3.3
Pro-One
Moog
The Source
Minitaur
Oberheim
OB-Xa
OB-8
Ensoniq
SQ80
Waldorf
Q
Pulse
Pulse 2
Microwave
Blofeld
PPG
Wave 2.2
Kawai
K5000R
K1r
Synton
Syrinx
Kurzweil
K2000
E-mu
E4X
E5000
Vintage Pro
Akai
S950
S3000XL
Arturia
Microbrute
Polybrute
clavia
Nord Lead 1
Nord Rack 2
novation
A Station
Circuit
Access
Virus C
behringer
Deepmind 12
TD3
DRUM COMPUTERS
Roland
TR909
TR8S
TR707
TR505
boss
DR660
yamaha
RX21L
Casio
RZ1
Kawai
R100
Arturia
Drumbrute
elektron
Analog Rytm
Analog 4
Octatrack
akai
MPC Live II
MPC1000
MODULAR
Doepfer
Cwejman
Intellijel
Make Noise
Abstract Data
Shakmat
TAT
Falafular
ALM Busy Circuits
Endorphins
Winter Modular
Pittsburgh
WMD
Vermona
Synthesis Technology
Mutable Instruments
ADDAC
Koma Elektronik
Tip Top Audio
4ms
Erica synths
XAOC Devices
Ginkosynthese
Toppobrillo
SSF
etc
MIXERS
Soundtracs
Solo Production 32-8-2
Soundcraft
LX7 24
Spirit Folio Rack Pack
Mackie
1604 VLZ3
1604 VLZ
1402 VLZ3
1402 VLZ
1202 VLZ
802
COMPUTER – DAW – ADDA – PREAMPS
Mac mini i7 2018 6 core 32GB RAM
Double Philips 27″ Quad HD screens
Ableton Push 2
Logic Pro
Ableton Live
Reaper
Hundreds of plugins: Komplete, V-Collection, Waves Horizon, Brainworx etc
RME Fireface UFX+
Ferrofish A32
Focusrite ISAtwo
Cranborne Audio Camden 500 (x2)
RME Fireface UC
RME Fireface 800
RECORDERS
Sound Devices Mixpre6
Sony PCM M10
Sony PCM D100
Tascam DR100MkIII
SPEAKERS
GENELEC M040
GENELEC 7040
GENELEC 1029
iLoud Micromonitor
OUTBOARD
Roland
SRV2000
SDE1000
GS6
DEP5
boss
CE300
Yamaha
SPX990
SPX90II
SPX50D
Ibanez
DM500
DM1000
HD1000
HD1500
Alesis
Quadraverb GT
Midiverb 4
Midiverb 3
Midiverb 2
Microverb 2
Microverb
3630
ada
D1280
digitech
Vocalist II
lexicon
MX200
LXP15
PCM70
Drawmer
DL241 (x2)
DS201
DBX
160A (x2)
166 (x3)
Aphex
Aural Exciter type B
Compellor
Expressor 651 (x2)
SPL
Dynamaxx (x2)
Vitalizer
BSS
DPR402
DPR404
XTA
GQ600
Klark Teknik
DN27 (x2)
Joemeek
SC2
Elysia
Xfilter 500
Xpressor 500
MICRO PHONES
AUDIO TECHNICA
AT4040
Se Electronics
Z2200
Shure
SM57
SM58 (x3)
SM7B
Beyer Dynamic
MC930 (matched pair)
Neumann
RSM191
AKG
C468 (x2)
Sennheiser
MKH416
MD431 (x2)
Lom
Usi Pro
MicroUsi
MicroUsi Pro
ElektroUsi
Geophon
JrF
Contact Mics (x2)
Hydrophones (x2)
Line Audio
CM3 (x2)